Keep up to date /
Are you a manager or a leader?
Categories
Posted in Employers on Aug 01, 2017 by Keeley Edge
During most of the 20th century, management was a top-down process. Managers made all the decisions. They told their employees what to do and employees did what they were told. A one-size fits all approach to management tended to be the norm.
These days, there is far greater awareness of how different management styles need to be applied to different situations. Autocratic management is outdated. Many businesses now look for great leaders as well as great managers.
So what's the difference between a manager and a leader and which are you?
MANAGEMENT
Management is more rigid than leadership. A manager controls the team to get results. The manager makes the decisions, designates tasks and ensures that objectives are met.
Managers tend to focus on processes and structure rather than individuals. The goal is to get the task done. They ensure stability rather than growth, they have subordinates rather than 'followers' and they manage risks rather than take them.
A good manager will be able to effectively manage budgets, equipment and resources. They are efficient at planning, organising and delegating.
Those who possess management skills are ideal for roles such as operations, finance and facilities management.
When should you be a manager?
Management is very effective when there are strict deadlines, when risk needs to be minimised or when decisions need to be made quickly.
LEADERSHIP
Leadership is more about vision. Leaders inspire growth and change; they can think more abstractly and are prepared to take risks.
Leaders encourage individuals to innovate. They are facilitators, they listen to their employees and they challenge the norm. They motivate teams to achieve the company objectives.
Without leaders, it can be difficult to move a business forward. Leaders set expectations for their 'followers' and guide them towards a vision. Leaders have empathy, recognise intrapreneurship and adapt their leadership style to the needs of their people.
Leaders are particularly effective in creative industries and business development roles.
When should you be a leader?
Leadership is necessary when you want to develop a new process or product, are faced with uncertainty or need to implement cultural change.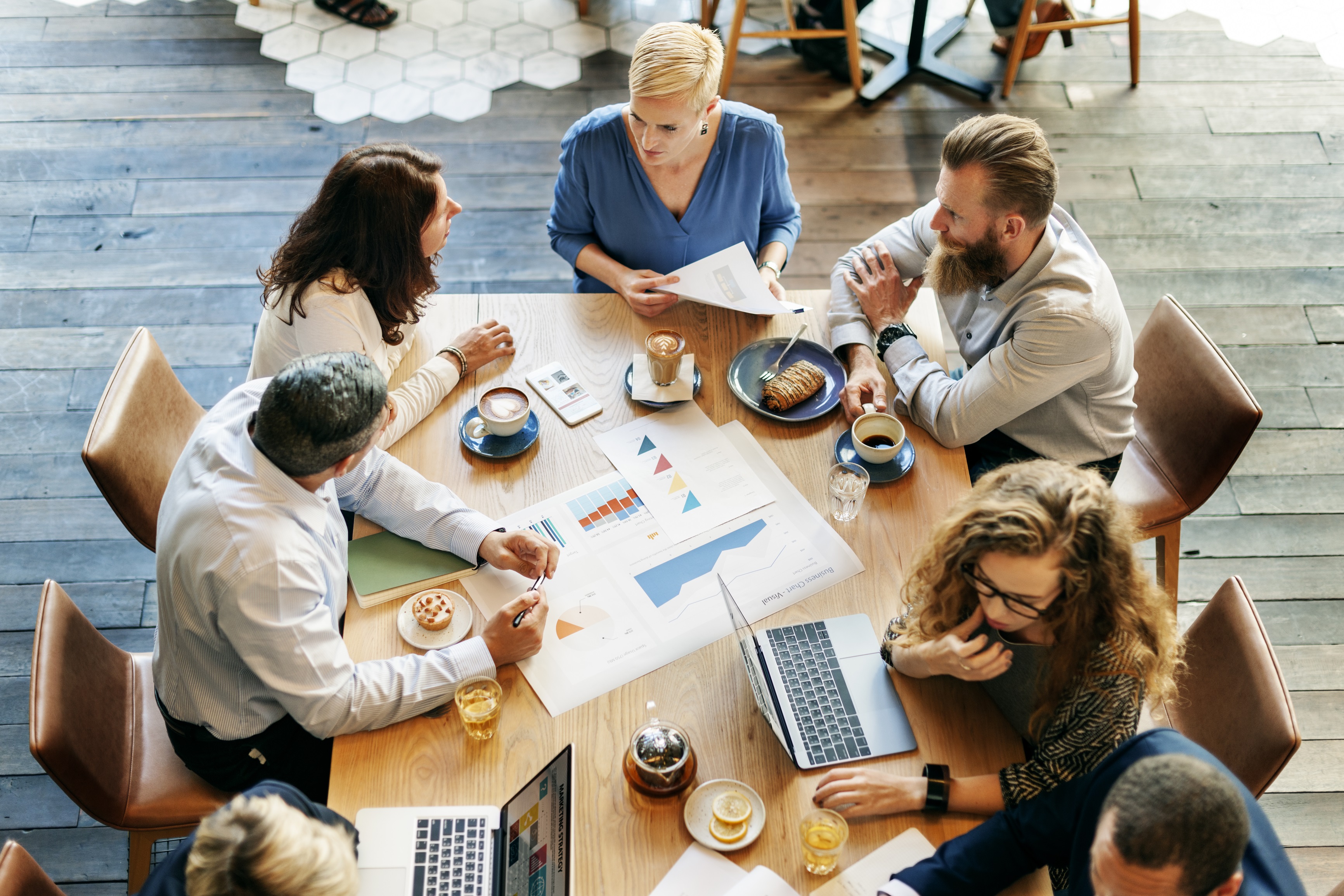 MANAGING & LEADING EFFECTIVELY
Some people are good managers but not capable leaders and some people are good leaders but not effective managers.
The most successful managers and leaders are those who possess a combination of both great leadership and great management qualities. They can manage processes efficiently and motivate individuals to reach their full potential.
The One Minute Manager by Kenneth H. Blanchard, suggests there are three main principles to effectively managing and leading a team.
Goal setting
The first principle is goal setting. Make it clear from the outset what the expectations are. An employee should understand their responsibilities and what they are accountable for. This prevents confusion and enables an employee to be more focused.
Goal setting should be done for short and long term projects. In some cases, there may be very strict processes in place that have to be followed step by step and these should be clearly outlined. In other cases, there may be more flexibility; as long as the end goal is achieved it doesn't matter how you get there.
Clearly defining what you expect from an individual gives them clarity. If they know what they are working towards then they know which direction to take.
Praising
The second principle is praise. Employees want to feel valued. They want their hard work to be recognised and their achievements to be rewarded. Letting your team know when they are doing the right things can be a real motivator and will improve productivity.
Value your employees both as individuals and for their team efforts. If you have set clear goals and they have achieved these goals then acknowledge that achievement. Make sure they know when they are doing the right things.
Reprimand
The final principle is reprimanding. Address underperformance or negative behaviour immediately. If you have been clear in goal setting and an employee has not met the objective then you need to let them know.
This doesn't always have to be a formal process. It can be as simple as taking them aside and explaining you are unhappy with the way they have approached a task or carried out an aspect of their work. Let them know why you are unhappy; what impact has their behaviour had on the company?
Remind them that you value them but they have not met expectation in this situation and it shouldn't happen again.
Utilising these three principles helps you establish a better relationship with your team. They will have clarity on what is expected from them and they will know what to expect from you. Better communication results in better productivity.
INVEST IN YOUR PEOPLE
Employee engagement boosts employee retention which saves your business money and helps you build a quality team. Motivated employees are more productive so it pays to invest in your team.
Invest in training and development. Coach and mentor individuals and help them reach their potential. Encourage innovation and creativity. Listen to your employees and understand their needs and concerns. Make everyone feel valued.
Ensure that employees are thoroughly trained on how to carry out their role. Let them know the processes they must follow and the outcomes they must achieve. Show them how to manage their tasks efficiently.
By effectively managing and leading your team you will help your business grow and meet its objectives.
HOW TO HIRE EFFECTIVE MANAGERS AND LEADERS
When recruiting for management positions, it's a good idea to look for those who can both manage and lead. However, there are cases where the nature of the role may determine which skills are more important.
For example, somebody managing the accounts department would need to be a strong manager. They need to ensure that the people they manage are hitting deadlines, adhering to processes and doing things the right way. There isn't much room for deviation from the set procedures because there is no room for error.
In contrast, somebody managing a team of designers would need more leadership qualities. They would need to inspire creativity and innovation, encourage ideas and get the best out of their team. There is more room for risk taking and breaking the rules but there are still objectives to be met.
In order to ensure that you hire the right person for any management role, you have to start with establishing a clear job description. Outlining the main responsibilities and tasks will help you identify whether you need someone who is more of a manager or more of a leader.
Once it is clear what kind of person you need, you can then work with your recruitment consultant to find candidates who meet the criteria.
Your interview should be designed to determine whether candidates possess the necessary attributes. You may also want to consider DISC / Psychometric profiling to understand their personality type and how they will fit into the existing team.
We can help
At Key Appointments, we have successfully recruited for many management roles across a number of industries. We understand what it takes to be a good manager and leader and we use this to place the right people in the right roles.
We can help with every stage of the process from building a job description right through to designing the interview process and even being part of your interview panel. Our priority is getting the best talent for your business.
If you would like to know more about sourcing effective managers or need help recruiting for a position, we'd love to hear from you. Contact us today to find the next great managers and leaders for your business.
Tel: 0844 5044666 / Email: info@key-appointments.co.uk
Featured Jobs
Customer Services Administrator - Kirkstall, Leeds

£16,000-£16,500 per annum

. Read more...
Graduate Sales Account Manager - Leeds, West Yorkshire

Salary: Dependent on expereince

. Read more...
Buyer - Leeds

22k-25k per annum, depending on experience

. Read more...
View All
Receive all our latest news and updates
Latest from the blog
19th June 2018
Protecting candidate data during and after recruitment
We're sure, like us, you've been overloaded with e... Read more
Read all blog posts